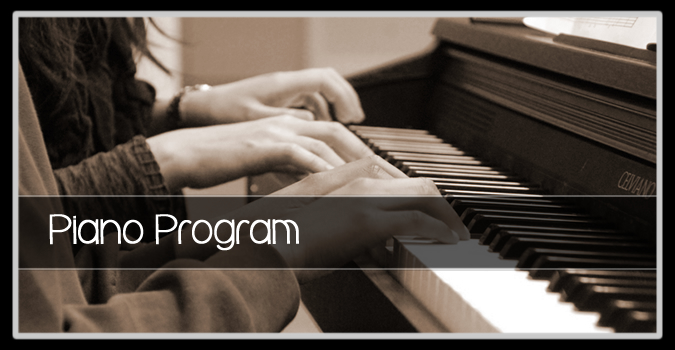 We offer a variety of private and group instruction to suit all types of students and family situations.  From our piano performance program to group piano lessons, there is something for everyone who wants to learn to play the piano.  Our piano programs require dedication to home practice and a suitable instrument.  If you are looking for something more casual, try out our Making Music Fun for Kids group programs.
GROUP PIANO LESSONS
Students will receive formal piano lessons in a group class, once per week.  Our studio is equipped with one digital piano per student.  We will study all aspect of playing the piano: sight reading, technique, music theory, ear training, etc. and progress through method books.  Ensemble opportunities also exist in the form of duets and trios.
SEMI PRIVATE PIANO LESSONS
Semi private lessons are perfect for students who are ready for some one on one lesson time at the piano, but aren't ready for the full commitment of private lessons.  We will study repertoire, technique, music theory and ear training.  Students will attend a weekly lesson with 2 other students, rotating through different learning stations during the class, plus a monthly performance master class.
PRIVATE PIANO LESSONS
Private lessons are available to students who are ready for more serious and committed piano study, and for students to whom a suitable class is not available.  We will study repertoire, technique, and music theory.  Student will attend a weekly private lesson plus a monthly master class.
PERFORMANCE PIANO PROGRAM (YEAR ROUND)
Our one of a kind performance piano program offers students a journey into musical exploration, classical music, creativity, composition, music history, improvisation, and performance.  Our unique approach engages students of all ages, who are serious about learning to play the piano.
Students attend a weekly piano lesson plus a weekly group theory / performance class. We will study music theory, ear training and rhythm study in a hands on group environment, which allows us to dedicate piano lesson time to the art of playing the piano. Group classes make this a musically social experience, and they have an amazing time learning and performing with other students.
Students will develop essential skills in performance, team building, self discipline and confidence. They are challenged to prepare for community performances, studio recitals, music festivals and examinations. Many performance opportunities exist, including solos, duets, trios and other ensembles. Students thrive in this environment.  ** Acceptance to this program is based on student and family level of commitment to piano study.