We offer piano, vocal, guitar, ukulele, preschool music, and creative arts programs to suit all ages, levels and abilities. Join our mailing list or our Facebook Group to receive studio news and program information. Payments will be accepted by cash, cheque or credit card in person, and paypal or etransfer online. Unless otherwise noted, tuition is payable in 1 full payment at time of registration, or 3 payments as follows: first installment due Aug 1 or at time of registration, then 2 installments on Nov 1 and Feb 1. An annual studio materials fee of $20 per student is added to the first installment, which covers costs for music book lending library, digital materials & memberships, printables, resources, etc.
Group Ukulele (all ages): Beginner Thurs 6:45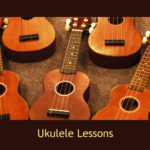 Learn to play the ukulele with group ukulele lessons.  You will learn chording, rhythm, strumming, tablature, finger exercises and ensemble playing (a.k.a "jamming"), while developing strong listening skills.  Thursdays 6:45-7:30.  Starts September 14 for 30 weeks from Sept – May.  Annual tuition: $450
** Ukulele rentals are available:  $100 deposit required ($50 goes to the rental for the year, and $50 will be refunded upon return of ukulele in original condition).
Wait List